You are allowed any number of clubs in your bag when practicing, but the official Rules of Golf state that a player is allowed to take a maximum of fourteen clubs on a round. The limit on clubs enables golfers to become more skilled at playing different shots with the clubs they have. The fourteen clubs must be chosen before the start of a round and you must finish with the fourteen you started with.
However, if you begin with fewer than fourteen clubs, you may add clubs during the round as long as this doesn't cause delay and are not borrowed from another player. If you break the 14-club rule in match play the penalty is a loss of hole for each hole played in violation of the rule, up to two holes lost. In stroke play the penalty is two strokes for each hole played in violation of the rules, with a maximum of four strokes.
A Standard Bag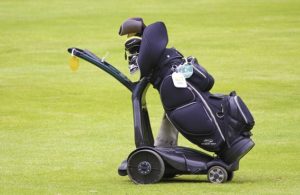 If you are buying a first set of clubs, a complete set is an economical way to acquire the necessary equipment to get into the game. Golfing manufacturers have complete golfing sets that contain twelve to seventeen golf clubs. Manufacturers composition of clubs varies. The highly rated Callaway Men's Strata Complete Golf Club Set (9 clubs) includes a Driver, a 3-wood, a 5-hybrid, a pitching wedge and 4 irons and a putter together with a stand bag and 2 head-covers. The Idea Golf Club Set (12 clubs) includes a driver, a 3-wood, 5-wood, 4-hybrid, 5-hybrid, 6-hybrid-iron, 7-hybrid-iron, 8-iron, 9-iron, pitching wedge, sand wedge and putter.
The traditional golfers set of fourteen clubs would include a driver, 3-wood and 5-wood; 2-9 irons, a pitching wedge and sand wedge plus a putter. With the launch of hybrids, the standard bag composition has changed to allow you flexibility to play to your strengths yet allows you to practice your weaknesses.
While the driver and putter remain constant, the other clubs are your personal choice. If you are a low-handicapper include a lob wedge or gap wedge with your pitching wedge and sand wedge. Hybrid clubs have replaced most 2-4 irons and the 5-wood. With advances in design, some golfers are now replacing all irons with hybrids.
The look and feel of traditional irons appeals to many golfers, it's all about personal preference. By experimenting you may prefer the performance of hybrids where the 3 through 6-irons are usually used, but prefer traditional irons in the higher lofts starting with the 7-iron. It is worthwhile trying out traditional clubs with the corresponding hybrids side-by-side to compare each shot for accuracy, distance and quality of contact on every shot. Which club inspires more confidence in you? Which club has the best impact, height and distance? You may decide to retain regular irons or you may wish to get rid of all your irons entirely.
It is necessary to generalise here, so if there is a particular club that you hit very well but is not listed, keep it in your bag. Your results, not your wishes, should decide the composition of your golf bag.
The higher-handicap bag
Higher-handicap golfers should focus on the easiest-to-hit clubs.
3-wood (or hybrid)
4, 5 and 6 hybrids
7, 8 and 9 irons (or hybrid-irons)
Pitching wedge
Putter
A driver for a high-handicapper will usually just send the ball far off rather than far down the fairway. A driver is necessary for practice on the driving range, but is not needed when you're on the course where a 3-wood or hybrid will increase your chance of finding the fairway off the tee.
The Mid-Handicapper Bag
Driver
3-wood (or hybrid)
4 and 5 hybrids
6, 7, 8 and 9 irons (or hybrid-irons)
Pitching wedge
Sand wedge
Putter
Different golf bags types
Mid-handicappers might consider adding a lob wedge or gap wedge to their bag to increase their options around the green.
The Low Handicapper's Bag
Driver
3-wood or 2 hybrid (or hybrids)
3-iron through to 9-iron (or hybrid-irons)
Pitching wedge
Gap wedge
Sand wedge
Lob wedge
Putter