Golf cart bags are designed for one specific kind of player. The one that much prefers to save their back and use a golf cart, whether riding on one or pushing. If you're planning on golf being just as much a form of exercise as enjoyment, and will be walking the course, then a golf cart bag is not for you. They really aren't designed to be carried around on your back.
Golf cart bags are designed for use when pulling a cart or riding on one. What makes them so good for this purpose? There is easy access to all the pockets, and the bag stays safely strapped to the back of your cart. Most options include a non-slip base, so you don't have to worry about the bag slipping off.
Features of golf club bags to consider
Letting someone or something else take the strain of lugging your clubs around means more energy for your game. If you're using a cart or trolley then a golf cart bag is perfect. Designed specifically for use with a trolley or cart they tend to be slightly larger than golf carry or stand bags. The extra weight is all down to the additional structure a cart bag has. They are also more solid and will better stand the grind of being put in and taken out of the boot of your car, and being taken around the course. A bigger bag, of course, means there is more storage so you'll have no problem fitting in your tees, balls, waterproofs and anything else you want to take with you. They only have one strap which makes them totally unsuitable for carrying. Unlike a stand bag, which can double up as a cart bag, a cart bag is just that alone.
How many pockets will be enough?
Anyone not a lover of golf will be wondering what the problem is with the number of pockets. But the more great a fan you are of the game, the more you'll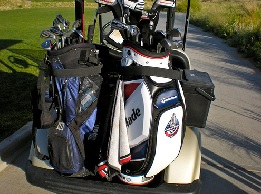 understand that a pocket is not just a pocket. Certain pockets are perfect for specific things. So let's take a look at the most common types of pockets, and you can decide which ones are right for you.
Accessory pocket – This is where you store your balls, tees, and pitch markers. Generally, most cart bags will have quite a few of these.
Valuables pocket – This type of pocket is designed to keep your precious items safe from damage, and away from the rough surfaces of balls and tees. This is where you can store your mobile phone, wallet and anything else you don't want to get damaged. They usually feature a soft, fur lining.
Rain pocket – For the players who aren't put off by a shower of rain, then a cart bag with waterproof pockets is a must. They are waterproof lined and have a waterproof zip to keep your valuables dry when the weather is wet.
Thermal pocket – This isn't about keeping your clubs warm in freezing temperatures. Instead, it is designed to keep cold things cold and hot things hot, for example drinks and snacks. The reflective lining of the pocket makes it act much like a thermos flask.
To divide or not to divide? – That is an important question
There are several options, and every manufacturer has their own idea of how many dividers are the best. We think that it really is down to the preferences of the player. And the good news is that there is a configuration to suit everyone. Whether you want to keep your putters separate, your drivers and fairways stored in different places, or allow each club its own personal space, there is an option for you.
Dividers are designed to keep your clubs in place and act as support to stop them moving around in transit. They stop the club heads from knocking together, which reduces the chance of damage, and also reduces the rattling noise that occurs when carrying your clubs.
As well as decided on the number of dividers, there is also a choice of length. Full length dividers have taken the organization of your club bag even further. Full length dividers reach the length of the bag, and stop your club shafts from looking like a game of pick up sticks. Which of course makes taking out a club much easier. Bear in mind that this kind of additional will increase the weight of the bag. Not necessarily a huge problem with a cart bag, as you're probably only going to be lifting it out and in of your car, and onto and off the cart.
We hope that this further information will aid in the decision making process, and you've been wondering what to look for in a golf cart bag.