Golf vacations are becoming increasingly popular nowadays, with many players jetting off to far off shores to enjoy a round of golf somewhere different. But what happens to your golf clubs when faced with the unsympathetic baggage handlers at the airport? Whether you travel with your golf clubs frequently, or only once a year, it's important to protect your clubs when they're placed in the cargo hold. Indeed, some airlines insist on certain types of golf travel bags. So it's up to you to decide whether to splash out on a hard cased travel bag, or opt for a cheaper option.
Pick the right golf travel bag to protect your investment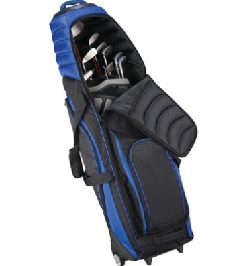 There's no denying that traveling for a game of golf is fun, whether it's a long trip somewhere warmer, or a quick weekend away for something different. Obviously, you can't take your clubs into the cabin, which means they have to suffer the embarrassment of being left in the cargo hold. On the whole, airline companies are very understanding when it comes to this type of cargo, but not all baggage handlers are gentle and treat the cargo as if it was their own. Therefore, it makes sense not to take a risk, and do everything in your power to protect the investment you've made in your golfing equipment. A good quality travel bag for your golf equipment is a must. Airlines are even starting to require the use of certain golf travel bags, in order to guarantee the safe arrival of your clubs. It's always wise to check with your airline before you travel. For added peace of mind you might want to consider extra travel insurance to ensure you're fully covered in case of damage.
What types of golf travel bags are available?
It is possible, technically, to simply place a rain cover over the top of your usual golf bag and travel with it this way. But that is a really risky decision to make. Travel bags for golf clubs come in a few different shapes and sizes. The best choice of all is to choose a 'hard case', which is made of plastic or fiberglass. This type of case provides the highest level of protection, and is the one most airlines insist on. A lighter and cheaper option is a soft cloth bag, but this only provides minimal protection. If you're only planning to travel with your clubs once, maybe twice a year, then this might be an option. However, frequent travel definitely calls for a hard case for your clubs. There is a third option that offers the best of both. An integrated case is almost as sturdy as a hard case, but is much more usable on the golf course. They come in 'soft' and 'hard' case forms. On the whole you'll get a higher level of protection, the more you're willing to pay.
How to pack your golf travel bag correctly
It's not just a case of throwing it all in and crossing your fingers. There is a certain way in which to pack your golf travel bag, in order to provide your clubs with the best protection. First, you should pack your towels around the clubs in your golf bag. Before you put this bag into the travel bag. You might want to consider putting them in upside down. Iron head covers will come in very handy when packing. Make a list of all your clubs, including specifications, and any receipts. This will help should you be unfortunate enough to need to make an insurance claim. Consider hiring clubs at your final destination, and save yourself all the hassle and stress. If you've decided you'd rather take your own clubs with you think about the weight. A hard case filled with clubs, a walking bag, shoes, and a box of balls will weigh as much as 40 pounds. This is the average weight limit for one bag when flying with an airline.
If you're planning a trip to far off shores, and long to take your golf clubs with you, we hope we've helped in your decision on whether to buy or not to buy a travel golf bag.