Do you have an issue with putting? Are you frustrated because you can't putt well enough to beat your opponents? You're not alone, as many players are stressed out by their putting abilities. The putter is the most used club in the bag. Buy the best one for your style of play and success is sure to follow.
As with many areas of golf, technology has made some significant improvements to the putter. New putters are arriving on the market regularly, and we'll be looking at some of them in the near future. We're here to help you all re-invent your game and enjoy a far more relaxing round of golf, whether for pleasure or competition.
So, here goes with our introduction to the world of putters.
Different types of golf putters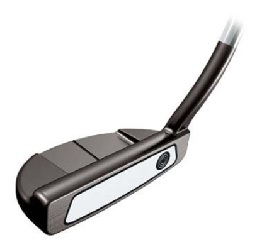 There have been plenty of innovative ideas coming to the golf world, and we think that putters are worthy of a mention. After all you use them for as many as 50% of your shots. Get your putting sorted and you'll improve your handicap and go home with a winning smile far more often.
Face balanced putters – This type of putter will point upwards, if the shaft is balanced on one finger. The center of gravity is directly below the axis of the shaft, allowing the head of the club to keep a square position and straighten up the putting stroke during motion. Using this type of putter will bring higher levels of performance and an even higher MOI in all shots.
Mid-slant putters – These are a favorite among golfers. Their balance is around 45 degrees, with a full-shaft offset. This helps to encourage less rotation if your stroke is of the arc-type. Ping was the first manufacturer to introduce them, and sales quickly gained momentum.
Toe balanced putters – These are also very popular, particularly if you have a strong arc stroke. The golf club is able to power through the swing, but not over-indulge and miss the hole. It is called a toe-down because if you lay it horizontally the toe points down to the ground.
Different putter head designs
Blade putters – These are the oldest and most traditional. They feature a relatively small head and classical design that was very popular in the 1900s. It is still a very popular golf putter today. There are no fancy features, but its simple, flat look was very easy to produce and many players found the soft hit very agreeable. They are best suited to fast, hard greens that need a delicate touch. On the whole they are face balanced, and therefore suit players with straight putting strokes.
Peripheral weighted putters – Also know as the heel-toe putter, it was the natural progression for the blade putter. Added weight in the heel and toe adds more forgiveness and consistency. Its design can also be soft and delicate, as well as long and thin at address.
Mallet putters – The mallet shaped putters brings the benefits of more consistent tee shots and more forgiveness. The large head gives manufacturers more space to play with and many are now adding various alignment aids and shapes on the back of the head, to improve player's alignment. The head's deep design also increases the Moment of Inertia (MOI), reducing spin and improving off-center putt performance.
A range of different faces and inserts
There are a number of options when it comes to golf putter faces and inserts, and really it's more of a personal choice, the speed of the green where you normally play, and the type of golf balls used.
Metal faced putters – Made traditionally from steel, but also from a number of other metals such as aluminium, brass, copper, bronze, titanium and zinc. Steel is used because it provides a hard, but responsive strike and a solid, controlled feel. They produce a loud noise, which is in fact quite important. Straight away you can hear the connection you've made with the ball, and hear where your putter's center is. Some feature milling on the face, giving a softer sound and feel.
Insert faced putters – Technology has brought the area of inserts on in leaps and bounds. Rubber, elastomers, ceramic, composites, metals, and other materials are now being used with great success. When made of lighter materials there is more MOI, and a reduction in hopping, skipping, and other annoying impact problems.
Groove faced putters – These are a more recent design. Offering the feel of metal they are able to get the ball rolling upon impact. The number of golfers using these is increasing, which is possibly due to their lack of any significant disadvantages.
This has been a quick insight into the varied world of golf putters. Stay tuned for more information.