Buying used hybrid golf clubs is a good idea for golfers on a budget. When you consider the amount of time spent on the green, a new hybrid may be a large investment that you don't want to make. Used golf equipment can be bought online or in second-hand shops.
Before buying second-hand/used Hybrid Golf Clubs
Before buying second-hand hybrid golf clubs, research your options and be certain the hybrid meets your needs. Beginners should ask club pros or more experienced golfers for advice on what may be the best fit for their game. Buying guides, reviews and forums online provide additional information.
For the high-handicapper golfer the larger hybrid clubs that have a fairway type profile are a good choice. A smaller profile hybrid that looks similar to an iron is a good choice for the intermediate and low-handicapper.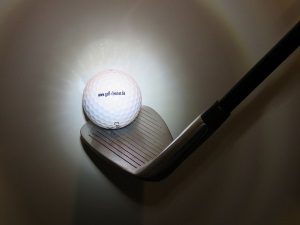 Consider the loft and adjustability you require before searching the second-hand hybrid golf clubs market. Many clubs now enable you to adjust the loft in 0.5 degree increments from 18-28 degrees. The ideal club is one that creates a consistent distance gap between your fairway woods and your longest iron.
Nearly all hybrids are built with graphite shafts. If you have a graphite shaft in your driver or fairway wood it is a good idea to match your new-to-you hybrid shaft to this. If you are taller than 6'6″ or shorter than 5' consider a slightly longer or shorter shaft length for comfort and ease of use.
Before you buy the second-hand golf hybrid that you want, check the price of the same hybrid with manufacturers as they regularly discount old or discontinued stock to clear retail space for newer models. Sometimes, a new hybrid may be cheaper than a mint-condition used one.
What to look out for when buying a used golf club
Ask the seller about wear and tear. Club heads should be unworn and undamaged since dents and wear may affect the distance and trajectory of the ball when hit. Check for rust, nicks, and indentations.
Worn clubs will show a shiny spot in the middle of the face and won't hold the ball well. Grooves should not be too worn and have well-defined edges.
Shafts should be in a condition that they won't break or bend with normal use. Check for wear, rust, dents, and nicks that can cause weakness.
Although golf clubs can easily be re-gripped this will add to the cost of your used hybrid golf club. Cracks, worn areas, and splits in the grip will need replacing (more about grips – here).
If you're not buying a set of used hybrid golf clubs, check that club lengths have no big differences between them. Big differences lead to loft progression that is out of kilter leading to inconsistency between shots.
Where to find second-hand hybrid golf clubs for sale
If you know what brand of second-hand/used hybrid golf club you want to purchase, the best place to look is online where several reputable traders have thousands of used golf clubs for sale or part-exchange. If you want to upgrade a club, you may be able to part-exchange the club you want to replace if the shop is willing to accept it.
Search online under used / second-hand / pre-owned and filter your search to find the club you want. Used hybrid clubs for sale online are usually listed by type (driver, fairway woods, iron sets, wedges, putters and hybrids). A secondary filter by brand will refine your choice if you have a preference.
You may also be able to refine your search to suit your requirements for a men/ladies, right-handed/left-handed hybrid and for the correct flex.
To suit your budget, filter choices by price and search for golf clubs that are in mint condition/new (usually unwanted gifts) or with prices decreasing as the condition rating drops from excellent to well-used.
Check whether the company offers a warranty for your new club and check the terms of their return policy should the hybrid not be suitable.
Used Golf Balls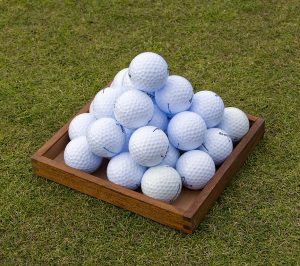 Golf ball manufacturing has experienced massive technological advances in recent years. Solid-core golf balls maintain their consistency and durability even when used, opening up a market for recycled balls.
Although the quality and composition of the ball affects distance and trajectory, slightly defective golf balls are still good for the average player. Used golf balls (Grade A) are rated according to their performance level and condition.
Grade AAA balls are like new.
Grade AA balls look new, but are slightly below a perfect grade.
Grade A balls are slightly defective and may be scuffed, marked or faded.
Hit Away / One hit balls have lots of marks and nicks, but are good for practising and are the cheapest on the market.